Home, Business & Car Unlocks from

$135*

Total Price: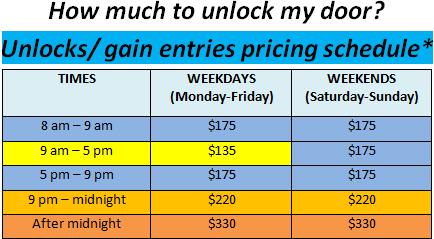 Regular Work Pricing:
WEEKDAYS 9am-5pm
Service Call: $88*
Labour: $44 per half hour
Rekeys: $22 per keyhole
Keys: $6 ea
*Prices are GST inclusive and apply to locations inside standard service area only. Cancellation fees apply. Additional charges for public holidays may apply.
People often book Perth 24 hour locksmiths in the heat of the moment, they have a child locked inside or are late to a meeting so they quickly call and book an emergency car locksmith without a second thought, forgetting to ask how much the service is going to cost and roughly how long it is going to take for the locksmith to arrive at their address.
As an example let's say a booked locksmith is on his way to a job. Five minutes in he gets a call from another customer in a similar predicament locked out and needing his help right away. He explains that he has already been booked by another customer so won't be free for another 30minutes. He then apologises and passes the customer onto another police licensed locksmith that can help them out in a more timely fashion.
Ten more minutes of driving time passes and his phone rings again, this time it's the booked customer he's already on his way to help who he is now only three minutes away from, the customer tells him thanks but not to bother coming out any more because they got another key somehow (or more likely panicked and broke the lock open which will cost a lot more to fix than the original unlock price anyway).
In this case the customer still has to pay the locksmith the minimum callout fee for the time, effort and costs involved in having the locksmith drop everything he was doing, leaving the office or his home & family (and probably his dinner), logging the job details, spending the time driving toward the job address and spending the time driving back again. Even then it has still cost the locksmith far more trouble than it was worth and the cherry on top is he had to turn away the other customer that called because he was "already booked".
Here at Access Lock Service we are ready to spring into action and help you at a moments notice but we don't want you to change your mind and have to charge you for services you didn't need to book in the first place.
So remember, we are happy to help but think it though before you call:
Have you got a spare key hidden anywhere?
How long have you waited for your house mate, property manager or real estate agent to call you back?
Is there a back door or window left open?
What's the hurry?
Do you have the required ID?
Do you have adequate funds to pay the locksmith?
Once you've thought it through for a moment then please call Access Lock Service on 0410 387 195

We're always glad to help the people of Perth 24/7 🙂